Accurate Interpretation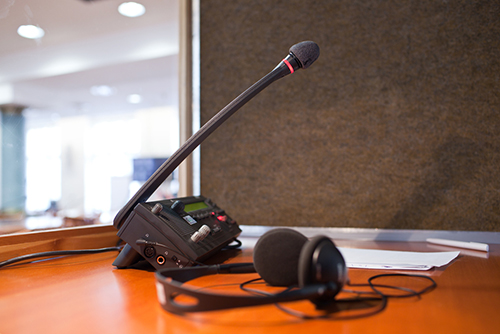 In need of foreign language interpretation for a meeting? Whether you are having a one-to-one meeting, a workshop or a negotiation, Reliable Translations, Inc. specializes in an array of accurate interpretation options. We have hundreds of hand-selected interpreters who were chosen for their experience, knowledge, helpfulness, and reliability. Our seasoned interpretation professionals can interpret practically anything in any language you throw at them!
What Is An Interpreter?
A foreign language interpreter is someone who speaks two or more languages and has the ability to remember what was said in language A and repeat it in language B without making any changes or adding any biases. A good interpreter has experience in many fields and can interpret any sort of topic in any setting, whether it's rocket science or a simple PTA meeting. We offer several types of interpretations in a one-to-one situation or in a group setting, including:
Consecutive Interpreting: best for small groups
Simultaneous Interpreting: perfect for larger meetings/groups & more than one foreign language
Escort Interpreting: 24-hour individual service for traveling, politicians, executives, VIPs, and tourism
Court Certified Interpreting: ordered by the court for legal proceedings
Labor and Political Interpretations: for Union and labor negotiations, political meetings, and seminars
Most Common Languages Requested
Our team of over 400 translators and interpreters hails from all over the world with skills in nearly every trade and profession. Whether you're a corporation, small business, non-profit organization, marketing or legal firm; in the financial and trades business, a manufacturer, or part of the entertainment industry, we can assist you with the utmost professionalism, accuracy, and grace.  The following languages are the most requested; however, we do have interpreters that can speak any language.
Armenian
Arabic
Burmese
Cantonese
Croatian
Czech
Dutch
Hungarian
Indonesian
Italian
Japanese
Khmer
Korean
Kurdish
Russian
Serbian
Somali
Spanish
Swahili
Swedish
Ethiopian
Farsi
French
German
Hindi
Hmong
Lao
Mandarin
Nepali
Polish
Portuguese
Punjabi
Tagalog
Thai
Tigrinya
Turkish
Ukrainian
Vietnamese
Cross the Foreign Language Bridge
At Reliable Translations, we pride ourselves on our service and the fact that we are the ONLY interpreting agency who specialize in labor and political interpretations. If you're having Union negotiations or any foreign language obstacles arise in your political meetings or conferences, we can help! Whether it's one-to-one or a group setting, Reliable Translations will be there, providing precise, professional foreign language interpretations. Crossing the language barrier has never been easier—we're just a click or phone call away. 818-484-8673 Get your free quote now.