The Value of Accurate Translations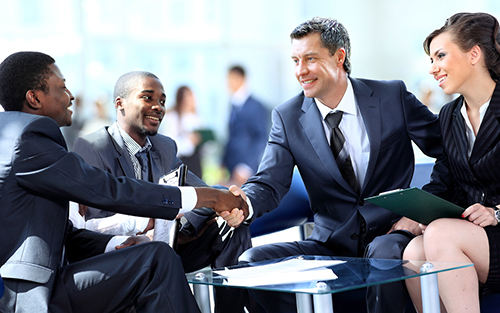 When it comes to translating your most important documents—documents that can make or break a large sale or financial contract, a Union contract, or even influence the hiring of your next CEO; cheaper is not better. In fact, Reliable Translations, Inc. believes accurate, high-quality translating and interpreting services are critical to American and international business success. Why trust your business transactions, meetings, legal documents, and personal needs to an agency that discounts its services so low they can't afford the very best language specialists? Those same cheap translations agencies also tack on invoicing fees that were never agreed upon like travel, parking, and mileage. Reliable Translations guarantees you get 100% accurate translations and the best value for your money with no hidden fees.
The Best of the Best
Reliable Translations is proud to offer the very best translation and interpretation services in the industry! We have over 400 of the most highly-trained, seasoned language specialists skilled in many trades from around the world. And our clients will tell you—we provide the best customer service in the industry! Because we only employ expert specialists that pass our strict quality standards, you can expect 100% accuracy with every service. And, not only will your project be completed to your satisfaction, it will be done with kindness in a stress-relieving manner so you can focus on conducting your business.
Satisfaction Guaranteed
We offer services that no other agency offers and we do them with the utmost care and precision. You can rest easy that whatever language barrier you face will not be an issue anymore. We make the process stress-free and simple. And if for any reason, ever, you're not satisfied, you let us know and we will remedy the situation immediately. Your happiness and level of comfort with the translating and interpreting process are critical to us; you are the reason we got into this business.
Why Choose Reliable Translations?
We translate and interpret all languages fluently.
We employ 400+ language specialists.
100% human translation, proofreading, and editing by translators who fluently speak the target language.
Ours is the most specialized team of highly qualified translators, proofreaders, and editors in the industry.
Interpreters are selected for their language fluency and level of experience and pass strict testing.
We are the ONLY agency specializing in Labor and Political interpretations.
We have certified interpreters and translators for hearings and legal documents.
There are no extra fees or hidden charges EVER (such as travel, mileage, parking, etc.).
The agreed upon quote is what is invoiced.
All translators and interpreters within our network reside within the servicing area. No out-sourcing.
We work with all size companies, government agencies, municipalities, unions, non-profits, manufacturers, financial institutions, and individuals.
We can service any client, anywhere in the world.
Truthful Quotes, Stress-Free Service
We are so happy you've found us! Don't be fooled by "cheap" services; having a language barrier is tough enough without having to fight for what you need, lose business because of it, or be surrounded by confusion. That's why we're here for you! We provide top-notch service and straight-up pricing with no surprises. Contact us today and count on Reliable Translations to be professional and fast. Call 818-484-8673 now.