Interpretation Industry Equipment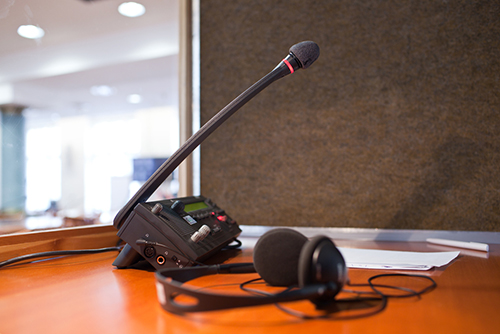 When you need interpretation equipment rental and services, we've got you covered! Many years of offering interpretation services with the most professional, accurate, and kind interpreters has made us a leader in the interpretation agency industry. In fact, Reliable Translations, Inc. is the #1 agency in California and fast becoming known around the country for our expertise. And, an extra benefit of hiring Reliable Translations besides our expert interpretation services is our top-of-the-line rental equipment. We can help you choose the right equipment for your event and send the most perfectly aligned language specialists to make it all come together with precision.  No event is too big or too small! We can manage all size events and meetings, in all languages, and any topic from the most complicated to the most basic.
Not Sure What You Need?
That's okay! We will help you arrange, manage, and provide ongoing support. We'll assist you with choosing the right interpretation rental equipment and setting up for and interpreting the event. We assure you—your event will be a success with Reliable Translations highly experienced, accurate and caring interpreters, knowledgeable technicians, and state-of-the-art wireless equipment.
Reliable Translations will always work hand-in-hand with your coordinators to ensure complete equipment and event functionality with less stress and effort on your part, freeing you up to focus on other important things. We help you along the way and ensure communication continues throughout the planning stages and at the event itself. Customer service is very important to us—we want you to be completely satisfied and have your multilingual event be a huge success.
Rental Rates
Reliable Translations, Inc. continues to add state-of-the-art, reliable rental equipment to our inventory to make sure your interpretation needs are met. We offer the following but are not limited to:
Multi-Channel Portable Transmitters…as low as $55/day
Multi-Channel Receivers with Headsets…as low as $8/each per day
Contact us today for assistance and a free quote. All quotes are custom per event based on the size of the event and large audiences with listeners in an array of languages. 818-484-8673